Good Morning to all of you!!
I am featuring several new dies today plus using a set from a past release that I think has so many fun uses!
The new die set has the word Thanks, a shadow plus a coordinating stamp set. The other stamp set I used is a floral set which has a great selection of small flowers and leaves called Florals. It also has a matching die cut set. And last but not least is the oh so versatile stitched rectangle die set with the rounded corners! I am in love with this set and use it all of the time!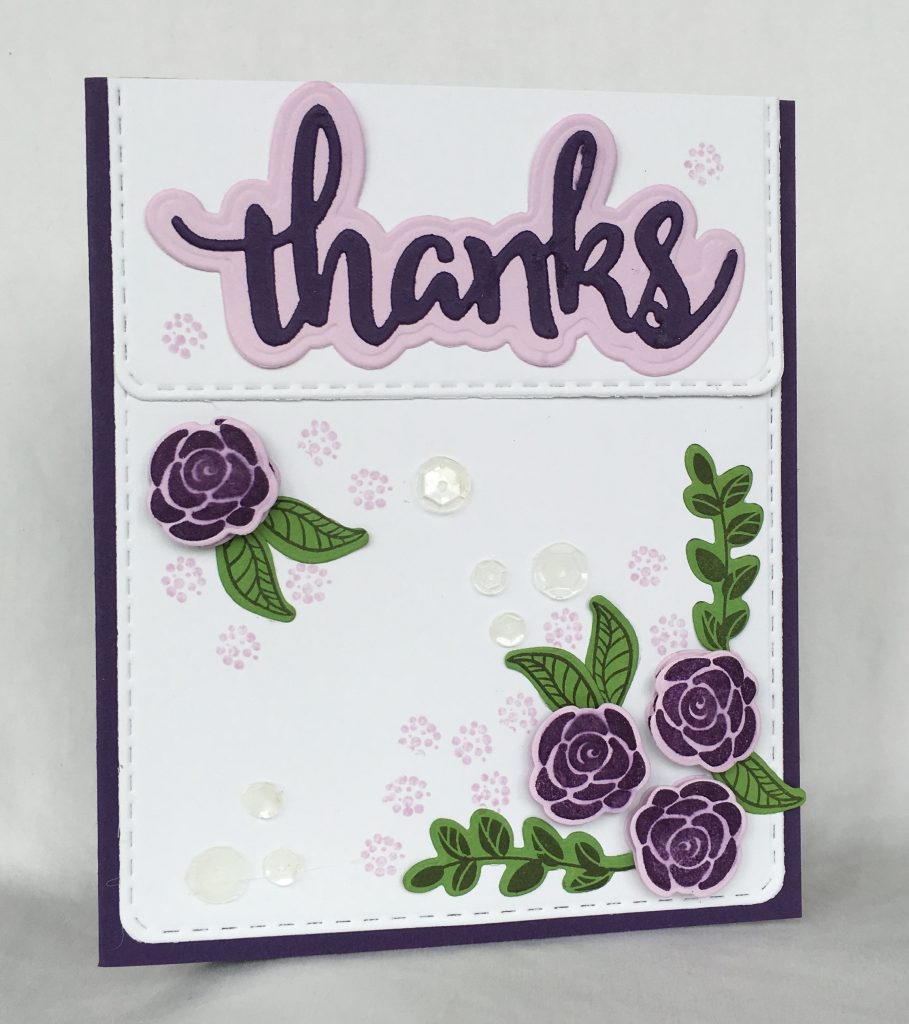 Design steps:
Start with an A2 purple card base (Recollections)
Use the largest of the stitched die set (Pink and Main Rectangle Stitch Dies) and cut out a white piece of card stock then cut off the top at about 2 1/2 inches
Put the remaining piece of the stitched die cut on the bottom of your purple card front and the top flap on the top half of the card as shown. ( You may have to cut off a small piece of the purple card base to get things to match up)
Cut out the shadow for the thanks in light purple and the word thanks in dark purple (Pink and Main Thanks to You)(Recollections) adhere to the top flap
Stamp roses (Pink and Main Florals) on the light purple card stock with a dark purple ink (Eggplant SU) use the matching die cuts to cut all the flowers out
Stamp the leaves (Pink and Main Florals) on green card stock with dark green ink (Artichoke SU) use the matching die cuts to cut all the leaves out
Adhere all the flowers and leaves to the front of the card as shown.
Stamp the small dots (Pink and Main Florals) around the flowers (Pale Plum SU)
Add clear sequin (Hobby Lobby)
Hope you have a great day!
Blessings
Pam